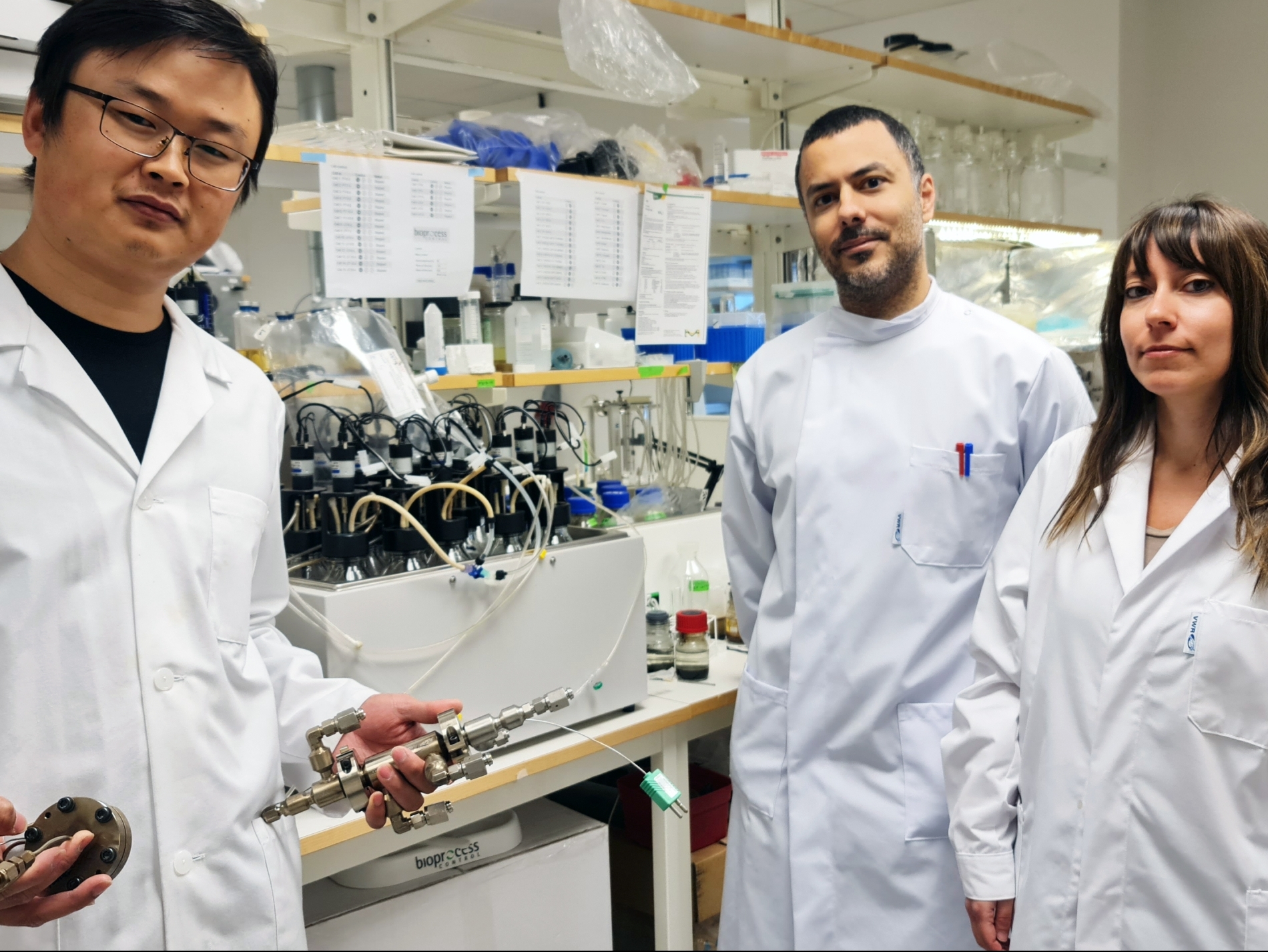 Courtesy Liang Yu
Efficient production of biomethane from wood by pressurised anaerobic digestion and upgrading by DDR zeolite membranes
Project leader: Liang Yu, liang.yu@ltu.se
Other participants: Charis Xiros, Io Antonopoulou, Leonidas Matsakas
Platforms: CatSep, BioPolChem
Organisations: LTU, RISE Processum
Status: Completed
Reference: B4E3-FM-1-10
Call: B4E3-FM-1, 2021-2022
In the project, we developed a novel process based on enzyme assisted pressurized AD (anaerobic digestion) of pretreated PFR (primary forestry residues), followed by purification with a single stage DDR zeolite membrane. The project ideally combined a novel and highly available feedstock, pressurized AD in combination with ultra-stable enzymes and finally a novel single stage zeolite membrane process, to produce biomethane at very low electricity consumption and low cost. Specifically, primary forestry residues were pretreated by steam explosion and used for pressurized AD process. The project also used CA for enzymatic in situ capture of CO2. The project was divided in three work packages.
In WP1, RISE Processum studied the pretreatment of PFR by steam explosion. The pretreatment methodology was aimed to maximize the hemicellulose recovery and at the same time minimize generation of inhibitors in the liquid fraction, as well as to maximize cellulose yield in the solid fraction. This process resulted in fractionation of the PFR to hemicellulosic sugars (liquid) and cellulose+lignin (solid). During pretreatment, metabolic inhibitors (soluble biomass degradation products, such as aromatics, furan derivatives, HMF) was generated in the liquid fraction that hampered subsequent AD.
In WP2, Biochemical Process Engineering at LTU developed a process for pressurized (up to 5 bar) AD of cellulosic and hemicellulosic sugars derived from steam explosion pretreatment (whole slurry) delivered from WP1. Additionally, enzymatic saccharification was employed to increase the digestibility of the pretreated solids. An ultrastable CA from Desulfovibrio vulgaris was used to promote solubilization of CO2 and increase CH4 productivity. Moreover, the stability of CA was assessed in terms of its concentration and redox conditions to demonstrate that this enzyme is a promising candidate for pressurized AD.
In WP3, Chemical Technology at LTU developed highly permeable and selective DDR zeolite membranes for the purification of pressurized (5 to 20 bar) biogas. The developed DDR membranes showed exceptionally high CO2 permeance for separation of CO2/CH4 mixtures. The first paper about the membrane development has been published on Advanced Functional Materials (IF: 19.9). The second paper about the separation at different pressures and temperatures and the design of an efficient process for the production of biomethane based on the DDR membrane separation data and the electricity consumption for the process is under preparation.
Keywords: Biomethane, DDR zeolite membranes, pressurized anaerobic digestion, Primary forestry residues, enzymatic in-situ CO2 capture.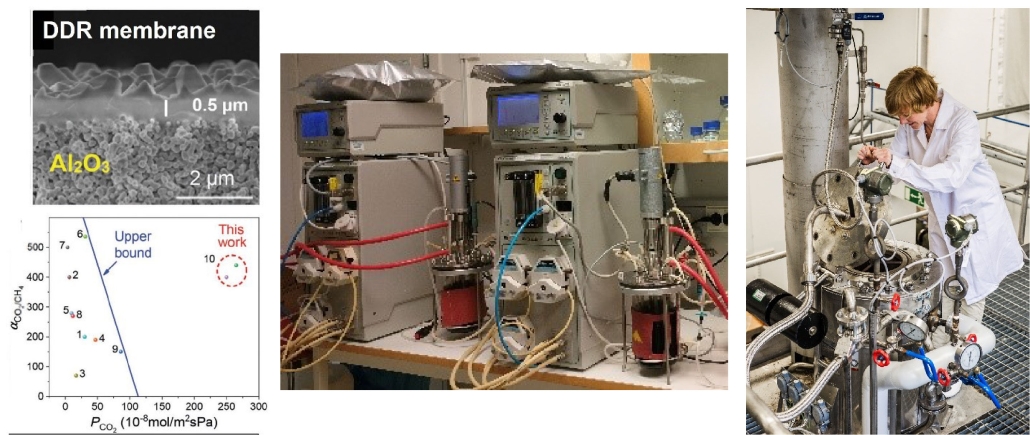 https://bio4energy.se/wp-content/uploads/2022/06/LY-LM-IA_Bio4Energy2022-scaled-e1655134804891.jpg
1427
1900
Anna Strom
https://bio4energy.se/wp-content/uploads/2022/08/Logo_stor_farg-300x74.png
Anna Strom
2022-05-11 16:34:42
2023-05-09 16:43:25
Efficient production of biomethane from wood by pressurised anaerobic digestion and upgrading by DDR zeolite membranes