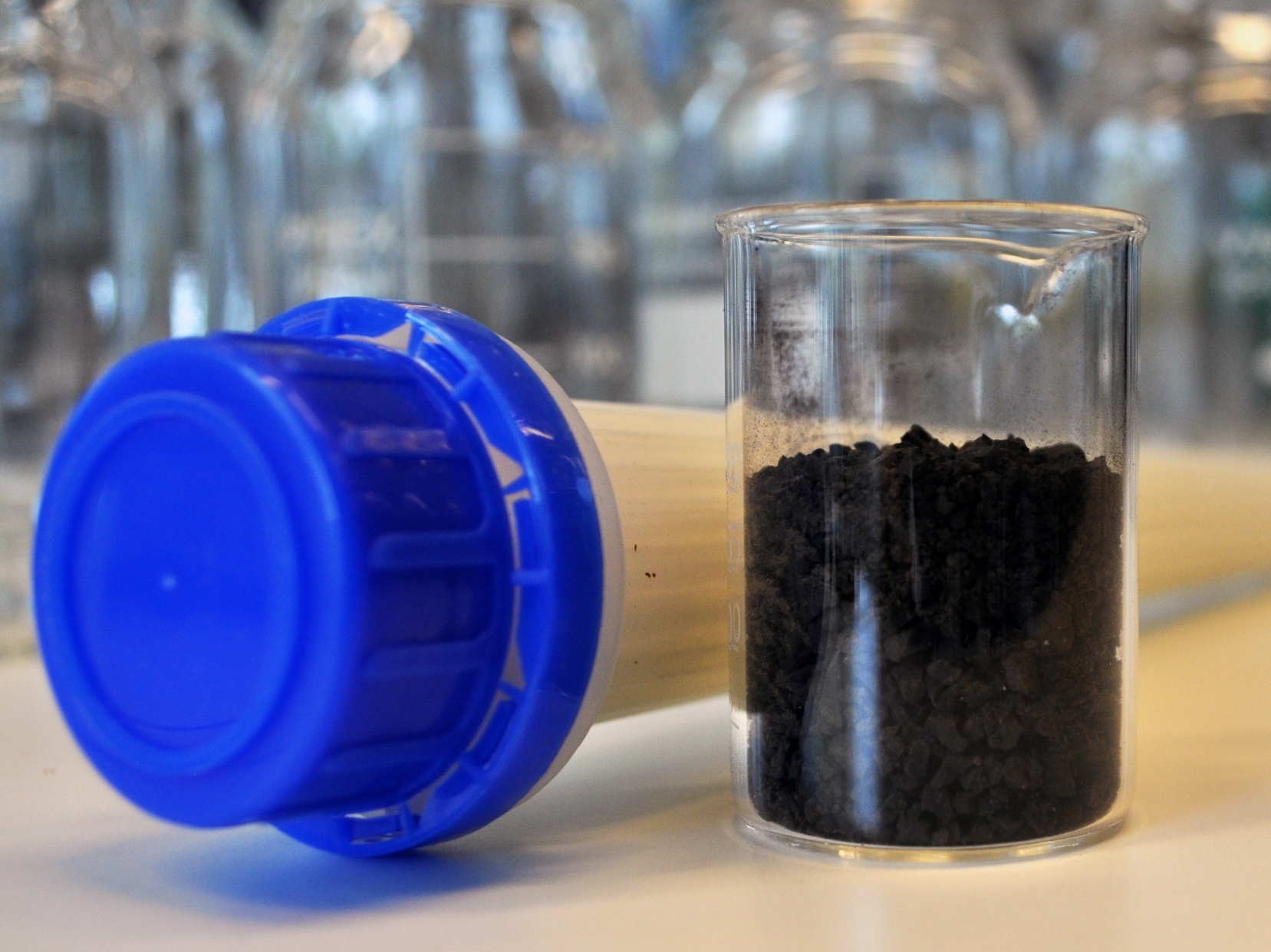 Courtesy Eva Weidemann, Bio4Energy
Activated and non-activated biochars and hydrochars from forestry-related waste streams for removal of environmental contaminants from sediments
Project leader: Stina Jansson, stina.jansson@umu.se
Other participants: Christoffer Boman, Robert Lindgren, Eleonora Borén, Eva Weidemann, Magnus Rudolfsson, Mirva Niinipuu, Linda Sandström, Gunnar Westin
Platforms: EnviroNut, FeedPro, ThermoChem
Organisations: UmU, SLU, RISE, RISE Processum
Status: Completed
Reference: B4E3-FM-1-08
Call: B4E3-FM-1, 2021-2022
The ANA-CONTA project aimed to explore venues of valorising forestry industry biosludge. Valorised biosludge could be used as e.g., adsorbents in environmental applications, either as standalone adsorbent in water treatment setups or similarly, or as enhancement in other types of adsorbent systems. In this project, the biosludge was transformed into hydrochar using hydrothermal carbonization, a wet carbonization technique suitable for upgrading and hygienization of wet feedstocks. The hydrochar was then pelletized, and pyrolyzed or activated, to enable an assessment of how different pretreatment conditions affected their adsorptive properties.
In one of the tests evaluating the adsorptive capacity of the hydrochars, pyrolyzed hydrochar and activated hydrochar were used as standalone adsorbents for PFAS (i.e. per- and polyfluoroalkyl substances – a group of surface coating chemicals that rather recently have been identified as widespread environmental contaminants, exhibiting intrinsic properties that make remediation by adsorption difficult) in a runoff water from a waste- and biofuel storage site. Real runoff water was used to provide realistic matrix effects, with additional PFAS spiked to the water to ensure that the levels of PFAS were sufficiently high for the adsorptive capacities to be evaluated.
In brief, unpelletized hydrochars activated using steam as activating agent generated an adsorbent capable of removing ≥80 % of long-chain PFAS (e.g., PFOS and PFOA, with 8 C). For shorter PFAS, such as the acidic PFBA, the removal capacity was ≥70 % for activated hydrochars, while PFBS (with a sulfonic head group) was only efficiently removed by hydrochars activated at 900 °C. Pyrolyzed hydrochar were not very efficient adsorbents in comparison with activated hydrochars.
The hydrochars generated within ANA-CONTA were also assessed as enhancement in a novel sediment remediation system, aiming to remove persistent organic pollutants from sediments. These results are pending due to limited instrument access.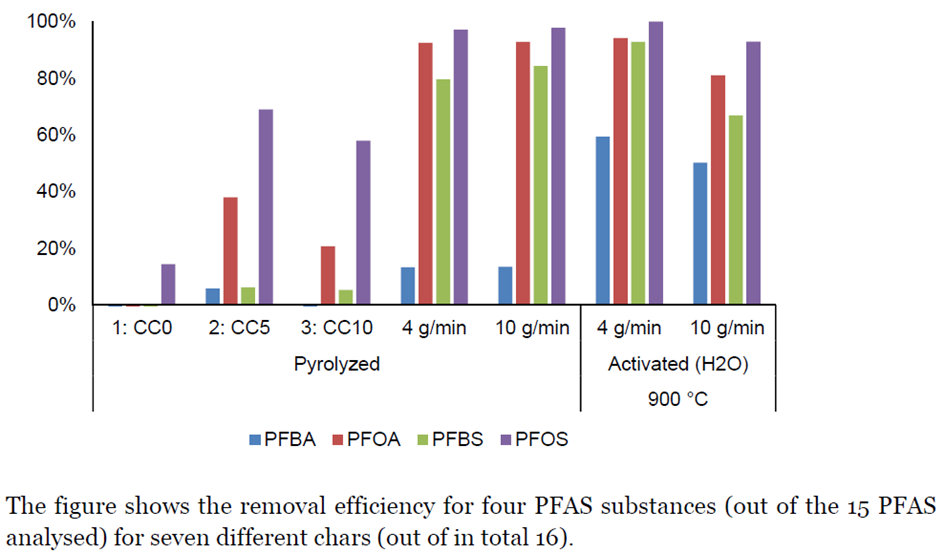 https://bio4energy.se/wp-content/uploads/2022/05/AnaConta_EvaWeidemann-scaled-e1656682144489.jpg
1241
1657
Anna Strom
https://bio4energy.se/wp-content/uploads/2022/08/Logo_stor_farg-300x74.png
Anna Strom
2022-05-11 16:31:01
2023-05-05 15:47:18
Activated and non-activated biochars and hydrochars from forestry-related waste streams for removal of environmental contaminants from sediments