The recent Bio4Energy Researchers' Meeting, drawing together sixty of its researchers to meet at Umea in northern Sweden, is real-life example of the deliveries that Bio4Energy took on making as a Strategic Research Environment, appointed by the Swedish government.
Biomass input materials for making renewable fuels, chemicals and materials
The members of the Bio4Energy Forest-based Feedstocks platform are designing trees that are better suited to resist challenging climatic conditions and to grow faster. Tree genes are studied in depth for the purpose of knowing how to enable an easy separation of the polymers in the wood matrix, for the production of advanced biofuels, "green" chemicals and bio-based materials. Four group leaders presented their latest research on wood engineering and characterisation, as well as resilience in times of climate change.
Education and training for advanced students: Tomorrow's knowledge workers of the bioeconomy
Bio4Enegy's core curriculum is contained in the courses of its Graduate School. Biorefinery Pilot Research gives students access to the unique park of pilot and demonstration facilities that line the coast of northeastern Sweden. Students construct and conduct their own projects to experience the innovation process hands on. First-hand access to professionals in industry and their peers allow for networking.
The new History of Biorefining in Nordic Countries' training paints the background of biorefinery development, as well as current trends and progress. Study visits and sessions on sustainability challenges alert students to the fact that we need to do better tomorrow to achieve circularity; efficient and effective production systems with low or no pollution escaping out into the environment.
Course coordinator Francesco Gentili flagged that Biorefinery Pilot Research will be given in connection with the Nordic Wood Biorefinery Conference at Örnsköldsvik in summer 2024, while Carmen Cristescu outlined the outcomes of the first ever edition of History of Biorefining, which just concluded in November this year.
No one shines brighter than Bio4Energy students
Eleven of them painted the gist of their bio-based projects in minutes-long talks and fleshed them out later on research project posters, which were the focus of discussion during mingling time. Three winners of Best Poster Presentation were selected by a jury composed of more senior Bio4Energy colleagues.
Nitrogen regulated wood formation, Anna Renström — Forest-based Feedstocks

Biopolymers from residues: A Comparative characterisation of Halomonas boliviensis PHB, Diego Miranda — Biopolymers and Biochemical Conversion

What Makes a Tree a Tree?, Edouardo Soldado — Forest-based Feedstocks
Conference presentations
Forest feedstocks in the context of climate change, Sonali Ranade — Forest-based Feedstocks
Engineering of forest feedstocks for bioeconomy, Ewa Mellerowicz — Forest-based Feedstocks
Dark matter of the spruce genome, Peter Kindgren — Forest-based Feedstocks
Developments in forest feedstock characterisation, Gerhard Scheepers — Forest-based Feedstocks
Bio4Energy Graduate School: Biorefinery Pilot Research, Francesco Gentili — Enviroment and Nutrient Recycling
National infrastructure and synchrotron-related research, Nils Skoglund — Enviroment and Nutrient Recycling
Treesearch and Formax, Mikael Thyrel — Feedstock Pre-processing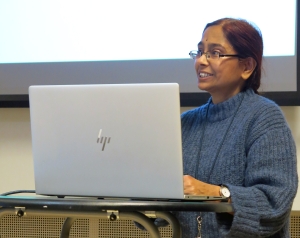 https://bio4energy.se/wp-content/uploads/2023/12/RapidFire_221123.jpg
1457
2500
Anna Strom
https://bio4energy.se/wp-content/uploads/2022/08/Logo_stor_farg-300x74.png
Anna Strom
2023-12-04 16:31:12
2023-12-06 14:09:19
Biomass Feedstock, PhD Education, Synchrotron Research in Focus at Bio4Energy Event